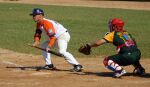 Sancti Spiritus Roosters swept Pinar del Rio Lowlanders, current champions of the Cuban baseball, by beating those 6-5 in the last of the three game series played in the Jose Antonio Huelga stadium, home to the former.
The final encounter turned out to be a very tight game with excellent performances by both starters, Yoen Socarras for the locals and Erlis Casanova for the visitors. The Tobacco Growers, also known as "Lowlanders", "Wolves" and "The Tsunami" did not take advantage of their 14 hits and were defeated by only one run, though their adversaries shot only 8 hits..
Sunday confrontation will be remembered as Roosters' pinch hitters rebellion. Even if they compiled for a 111 average up to that moment, they were responsible for 5 of the 6 runs brought in. Rookie Guillermo Gonzales broke the tie to 1 run with a golden hit while corpulent Yordanis Rodriguez brought over home plate the 3 decisive.
As key notes in the three game series we can highlight the 10th victory of Roosters Ismel Jimenez, also leader in innings worked, the use of Yoandi Baguet as first in the roster for a 333 ave (3 in 9), and the reincorporation of Wolves William Saavedra, a relevant player in his team's aspirations. Also the role played by Sancti Spiritus youngest players and pinch hitters.
With the swept, Roosters improved their position in the West standings while entering the qualifying zone with a 25-26 record, five and a half game away from leaders Matanzas and Industriales.
From Tuesday to Thursday they will be facing Santiago de Cuba Wasps in the latter headquarters.