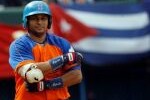 Three players from Sancti Spiritus baseball team are included in the West squad that is to face its similar from the East, in the Cuban Baseball All-Star Game to take place next Sunday in the Victoria Giron Stadium, in Matanzas.
Chosen on the basis of their performance in the current baseball national season and on the fans votes, the roster brought to light last Tuesday includes Roosters third baseman Yulieski Gourriel, hurler Ismel Jimenez and left fielder Frederich Cepeda, the latter being the most voted Cuban player with 9062.
As reported by the Cuba News Agency, the West team is made up catchers Yosvany Peraza (PRI) and Lisban Correa (IND), infielders Jose Dariel Abreu (CFG), Jose Miguel Fernández (MTZ), Yulieski Gourriel (SSP), Roberto Carlos Ramirez (MET), Juan Carlos Torriente (IND), Rudy Reyes (IND) and Alexander Malleta (IND).
Along with Sancti Spiritus Cepeda, West outfields will be defended by Irait Chirino (IND), Guillermo Heredia (MTZ), Yadiel Hernandez (MTZ) and Yoelvis Leyva (CFG), Serguei Perez will be the designated hitter.
Voters selected as starters Jorge Alberto Martínez (MTZ), Yadier Pedroso (ART), Odrisamer Despaigne (IND), Ismel Jimenez (SSP), Yohan Hernandez (MTZ) and Norberto Gonzalez Miranda (CFG), and, as relievers, Felix Fuentes (MTZ), Duniel Ibarra (CFG) and Jose Angel Garcia (ART). Lazaro Vargas (Ind) is the coach.
As for the East, the votes favored catchers Yosvani Alarcon (LTU) and Ariel Pestano (VCL), infielders Ariel Borrero (VCL), Hector Olivera (SCU), Yeniet Perez (VCL), Yordan Manduley (HOL), Marino Luis (CMG), Yordanis Samon (GRA) and Alexander Ayala (CMG).
Outfields will be played by Alfredo Despaigne (GRA), Rusney Castillo (CAV), Reutilio Hurtado (SCU), Andy Zamora (VCL) and Edilse Silva (SCU), Isaac Martinez (CAV) will substitute injured Rolando Meriño (SCU) as designated hitter.
East hurlers are Robelio Carrillo (VCL), Alain Sanchez  (VCL), Yaumier Sanchez (SCU), Yasmani Hernandez (VCL), Yoelkis Cruz (LTU),  Alain Dela (SCU), Pablo Fernandez (HOL), Yolexis Ulacia (VCL) y Yadir Rabi Gonzalez (CAV). The team's coach is Ramon Moret (VC).
The Cuban Baseball All-Star Game includes a skill competition and a veteran's game scheduled for Saturday 18th. Sancti Spiritus glory Jose Raul Delgado is to participate in that encounter.