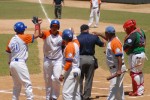 With key performances of ace Ismel Jimenez and 4th batter Yenier Bello, Sancti Spiritus managed to defeat Cienfuegos 3×2 on Wednesday and thus won the three-game series 2×1 while tying the general 3-3.
Roosters Ismel worked 8 2/3 innings in which Elephants shot him 9 hits and scored two runs, but he got to preserve the early advantage given by Yenier Bello's homer with two men on base.
Jimenez became the first pitcher in the tournament to get to 14 victories though he could not end the game as he reached the throws' limit. Rookie Omar Guardarrama took the last out and saved his 7th game.
Sancti Spiritus victory leveled the general subseries vs. Cienfuegos with three wins for each, while increasing the advantage over Pinar del Rio Tobacco Growers, current champions of Cuban baseball and positioned 5th in the West, two games away from Roosters.
Sancti Spiritus is to "enjoy" the "obliged" break imposed by the new calendar until upcoming April 3rd, when they will visit Camaguey to continue actions on the 51st national season.
[nggallery id=17] (Photos: Oscar Alfonso Sosa)