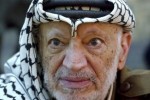 Late Palestinian leader Yasser Arafat's body will be exhumed on Tuesday to determine if he was poisoned.
The investigation is aimed at verifying if Arafat's death, at a French hospital near Paris in 2004, was due to poison. Last week, excavation of Arafat's tomb started in preparation for the exhumation of his remains.
A member of a Palestinian investigative committee, Tawfiq Tirawi, said the collection of samples from Arafat's remains and the reburial will take less than 24 hours and media is not allowed to cover the exhumation.
Investigators from France, Switzerland and Russia will oversee the collection of samples and the whole process will go in line with the Palestinian criminal code, Tirawi said; adding that Palestinian prosecution will be responsible for the legal parts of the investigation.
The controversy over Arafat's death of an undiagnosed disease renewed when the pan-Arab Al-Jazeera news network aired a documentary in July saying that the Palestinian leader was poisoned with radioactive polonium-210. The Qatari television tested some of Arafat's personal belongings in a Swiss lab, which found significant traces of polonium on his toothbrush and underwear.