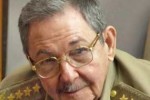 Cuban President Raul Castro met with Russian Minister of Industry and Trade Denis Manturov, to discuss about bilateral economic relations and the results of the recently held Intergovernmental Commission, official sources reported.
During the meeting the Cuban president expressed his gratitude to Moscow for its immediate support after the damage caused by Hurricane Sandy in the country.
The meeting was also attended by Ricardo Cabrisas, Cuban Vice President of Council of Ministers, Rodrigo Malmierca, Minister of Foreign Trade and Foreign Investments and the Russian ambassador in Havana, Mikhail Kamynin.
Cuba and Russia held their Tenth Session of the Intergovernmental Commission, which concluded with the signing of the bilateral economic agenda for the period 2012-2020.