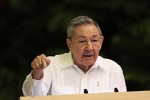 Cuba's President Raul Castro presided over the closing of the Third Annual Meeting of the Fruit Cooperatives in Bejucal, located in Mayabeque province, the Buenos Dias television program reported today.
The Cuban Head of State engaged in an exchange with outstanding producers from throughout the country and received reports of recent years' results, as well as on the challenges faced by farmers in production of fruits demanded by the population and as a means of import substitution.
In his address, Raul Castro made a call to continue working to calmly resolve all the challenges expressed by the farmers.
The statesman noted that the magnitude of what is being done must be taken into consideration, referring to the transformation outlined in the Economic and Social Policy passed at the Sixth Congress of the Communist Party of Cuba, held in 2011.
The Cuban Head of State emphasized the need for inclusion in all spheres linked to this activity, which, he stressed, is a hard job and at the same time requires knowledge and plenty of technical discipline.