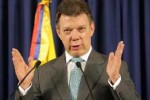 Colombian President, Juan Manuel Santos, acknowledged Monday the progress of the peace talks initiated with the Revolutionary Armed Forces of Colombia-People's Army (FARC-EP) and reiterated he maintains a cautious optimism about the process.
We are moving forward, he said, and I wish we could do it faster, but I think that this a is real chance to realize peace, Santos told RCN radio station and was quoted in the online daily El Espectador.
He added he was confident that the coming year they may announce the end of the conflict.
"We have to wait until the end," he said, "because we will sign and announce the end of the war when every point is agreed," he said.
He added that the government and the guerrillas decided to announce the progress together.
He added that they will wait with regard to agricultural issues, the first item on the agenda. I think in a couple of months we can announce that we made progress in that aspect.
After several months of exploratory talks, the FARC-EP and the Executive unveiled the official announcement of the start of the process, whose installation took place in Oslo on October 18 and a month later materialized in Havana, with Cuba and Norway as guarantors.