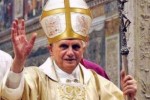 Pope Benedict XVI's visit to Cuba will allow the world to approach to the reality of a country many times target of media attacks aimed at distorting it, personalities and religious leader stated in this capital.
His Holiness will arrive in Cuba on March 26 for the eastern province of Santiago de Cuba, and two days later he will return from Havana to the Vatican. Despite his brief stay, the visit will be an opportunity to know the achievement and challenges of the Caribbean nation.
Hundreds of journalists from dozens of agencies, newspapers, radio stations and television channels of the planet will cover, as usually occurs in the apostolic trips, the arrival and activities of the Pope and his accompanying delegation.
In addition to the relevance of the visitor, his presence here will open a window to help understand a country on which disseminates a distorted vision, Joannet Delgado, general director of the Buddhist-lay organization Soka Gakkai of Cuba, told Prensa Latina.
For catholic activist Gabriel Coderch, the Pope's stay will also allow to prove the Revolution's social vocation in the context of updating its economic model.
Meanwhile, the renowned ethnologist and writer Miguel Barnet described Pope Benedict XVI's visit as "an excellent opportunity to show the reality of the country and its Revolution."
Taken from Prensa Latina