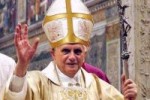 Cubans have been recently busy preparing for the arrival of Pope Benedict XVI, who's slated to visit the island as of March 26th.
A recent Granma newspaper editorial said Cubans were ready to welcome the Supreme Pontiff with great affection and respect, stressing the Caribbean island felt honored to host the highest Ecumenical official.
The Pope's visit is motivated by the commemoration next September of the 400 anniversary of the discovery of the image of the Virgen de la Caridad del Cobre, Cuba's Patron Saint.
A welcoming ceremony will be held in Santiago de Cuba's Revolution Square on March 26th. The Pope will later visit the Shrine in the El Cobre community, which houses the Virgen de la Caridad del Cobre.
The two-day Ecumenical visit will culminate in Havana, where Benedict is expected to meet with government and religious officials, and will officiate a Mass in the Revolution Square Jose Martí.  (Taken from RHC)