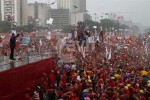 The National Electoral Council (CNE) today installs over 39,000 polling stations to guarantee the vote of almost 19 million Venezuelans in the presidential elections to be held on Sunday.According to CNE, 304 polling stations will be available in embassies and consular offices of this South American nation in other countries for the voting of 100, 495 voters.
The official installation requires the presence of an absolute majority of the members in charge of the voting process (president, two core members and a secretary) and also must be in place the machine operators.
According to the Council, the witnesses of the political organizations that participate in the election are entitled to be present during the process.
The law provides that in case a polling station installation fails by the absence of the main members, alternate members shall be incorporated in the order of their selection.
The process also includes, checking the correspondence between the machines and the polling center, besides the reception of electoral material that has been delivered and the verification of the delivery in the specified amounts.
The authorities stated that the voting equipment and electoral materials must be stored securely by Republic Plan, formed by members of the Bolivarian National Armed Forces, to the day of the elections.
For the elections next Sunday, will be activated in addition, 13, 810 polling centers, while more than 187 000 people will serve as board members and about 13, 800 as polling coordinators.
International personalities such as former U.S. president Jimmy Carter, have ratified the reliability and transparency of the electoral system, considered by experts and politicians among the best in the world.
The vast majority of opinion polls predict that President Hugo Chavez will win the elections, with over 15 points ahead of the opposition candidate Henrique Capriles, from the so-called Democratic Unity Table.