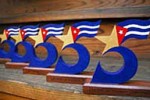 Peruvian women ask Michelle Obama for the release of the Five.
A large group of Peruvian women asked U.S. First Lady Michelle Obama today for the release of five Cuban antiterrorist fighters unjustly held in that northern country.
The request is included in a statement signed by dozens of artists, intellectuals and social leaders in Peru, on the occasion of the upcoming Christmas holiday, stating that this is a time to celebrate family unity.
"However, there are five heroes in your country who precisely due to their love for peace and humanity have been unjustly held for more than 14 years, with penalties that no human being could fulfill," the document says.
The text adds that Gerardo Hernandez, Ramon Labañino, Antonio Guerrero, Fernando Gonzalez and Rene Gonzalez were convicted without evidence and in a biased trial, and their release is in the hands of U.S. President Barack Obama.
"We believe that the upcoming Christmas could be different for the Cuban Five, after achieving their freedom through a legal action by President Obama."
The letter is part of the ongoing campaign activities of the Peruvian Committee of Solidarity with the Cuban Five, chaired by journalist and social activist Gustavo Espinoza, who confirmed his decision to fight for the freedom of the prisoners.
Such a determination was expressed during the fellowship's lunch held by the committee, in which diplomats from Cuba, Venezuela and other countries attended as guests.
Also participating were leaders from many leftist political forces and social organizations, as well as Peru's ambassador to Cuba Victor Mayorga.
Participants also included intellectuals such as sociologist Hector Bejar, painters Bruno Portuguez, Etna Velarde, Ever Arrascue and Fanny Palacios, and poet Hildebrando Perez.