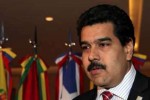 Venezuelan President Hugo Chavez, appointed current Foreign Minister, Nicolas Maduro as new senior vice president of government.
From the National Electoral Council, the president emphasized this Sunday the virtues of the up to now Vice President Elias Jaua, who registered his candidacy for governor of Miranda state, and appreciated his work.
'Thanks Elias, noble hardworking, honest, dedicated, intelligent and humble, above all, "said the head of state, who asked for 'an applause of support, encouragement' to the new official.
Chavez made the announcement during his proclamation as President for the period 2013-2019, after having triumphed in last Sunday's election with over 55 percent of the vote.