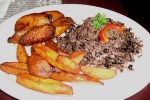 Cuba will implement as of December 1 an economic system where premises may be rented by the self-employed in the gastronomic sector.
This service will begin with 200 units that have one or two workers, and will be gradually expanded to 1,200 more throughout the country.
Those activities will be those of "paladar" (a family-run restaurant in people's homes), and cafeterias, Cuba's nightly TV news program reported.
The general management principles already implemented, such as those approved for barbershops and hairdressing salons, and other personal and technical services, will be extended to this sector.
Cigars, cigarettes and rum will be the only products supplied to the workers of the premises by municipal culinary companies at a wholesale price, so current prices can be maintained for the population.