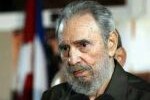 The book "Fidel Castro in the face of Natural Disasters. Thinking and Action" by researcher Luis Enrique Ramos Guadalupe was launched on Tuesday at the ongoing  21st Havana International Book Fair. The book deals with Fidel´s activity during the passage on the island of different hurricanes since the 1960s.
During the presentation of the book at the ALBA Cultural Center, in Havana, Enrique Ramos said his book´s pages  also tell about the solidarity of Cuba with other countries affected by natural phenomena, in the Caribbean and Central America in 1998, particularly the passage of hurricane Mitch.
The researcher recalled the thousands of voluntary blood donations collected for the victims of the earthquake that rocked Peru in May 1970, as well as other internationalist actions motivated and headed by the immense sensitiveness of Comandante Fidel Castro.
In statements to the Cuban News Agency, the director of the Cuban Meteorology Institute doctor Tomas Gutierrez recalled the many occasions that Fidel visited the institution to closely follow the tracking of hurricanes and how he inflicted a warmed feeling of security to face the danger posed by the natural phenomena.
Researcher Luis Enrique Gomez is a founder of the Cuban Meteorology Society and he is the author of other books related to this scientific specialty.
Taken from Radio Habana Cuba