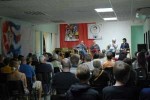 Year 2013 has been termed decisive in the struggle for the liberation of the Cuban Five.
The year 2013 will be decisive in the fight for the liberation of the five antiterrorist Cuban patriots still retained in the United States, said Mirta Rodríguez, mother of Antonio Guerrero.
In that sense, Rodríguez added that it is necessary to coordinate new actions to achieve the return to Cuba of Ramón Labañino, Fernando González, Gerardo Hernández, René González and her son Antonio, during a meeting with the members of the contingent 55 of the Nordic Brigade of Solidarity with the Caribbean island.
She also called to break the silence wall around the case inside United States, where most of the citizens ignore the situation, with the purpose of mobilizing the public opinion in favor of the cause of the Cuban Five.
In 1998, the Five were arrested to investigate terrorist groups plannning actions against Cuba, and after a trial taking place between 2000 and 2001 they received their sentences without the proof of the accusations.
The mother of Guerrero qualified of high-priority the work to send to US President, Barack Obama who has abilities to grant them an indult.
Also, she referred there is no answer of the legal resource presented by the defense, with documental evidences that the US government paid supreme discharges of money to about 80 journalists so that they created a hostile climate around the case and they influenced in the decision of the jury.
On the other hand, several Nordic brigadists expressed solidarity and support to Rodríguez, and they commented some of the initiatives that carry out in their countries to contribute to the liberation of the Cuban Five.