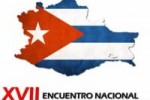 Delegates from at least 20 Mexican states Saturday meet in the capital of Oaxaca state, south-eastern Mexico, to hold the 17th National Meeting of Solidarity with Cuba.The two-day meeting, organized by the Mexican Movement of Solidarity with Cuba, has among its main key topics for discussion the struggle against the over-50 year US blockade on Cuba, Jesus Escamilla, member of the National Movement Coordinating Committee, told Prensa Latina.
Another important topic is to continue the struggle for the return to their homeland of the five Cuban antiterrorist fighters unfairly held in US prisons since 1998, said Escamilla.
A tribute will also be paid to Cuban women in this meeting, but also to Mexican women who have been active supporters of the Caribbean country.
Escamilla said that this event has being held for 17 years in different Mexican cities. (Taken from PL)