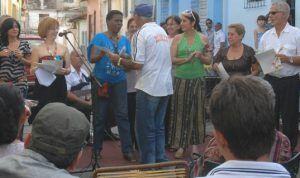 The winners of the Escribania Dollz's Love Letter International Contest were announced this Saturday in Sancti Spiritus, within the framework of the XXI Book Fair event.
By Yainerys Avila
After evaluating the over 1 830 letters received from Cuba and other twenty countries, the jury distinguished Mexican Jose Javier Morales Revuelta, Argentinian Sofia Syka and Spanish Miguel Angel Casas Benitez, among the foreign participants.
Morales Revuelta, who's currently studying in Sancti Spiritus's Pedagogical Sciences University, told AIN that he began to write this letter to his girlfriend some time ago, but he never thought of winning a prize out of it.
As far as Cuban winners is concerned, the jury chose the love letters written by Juan Miguel Cruz Suarez (Havana), Alien Arcia Sánchez (Yaguajay, Sancti Spíritus) and Yoanky Diaz Jimenez, from Remedios, Villa Clara.
Prizes were also granted to short letters received from children, elders, people currently kept in Cuban prisons and as well as other letters dedicated to specific locations in the city.
Escribania Dollz's promoter Liudmila Quincose said that this year, letters were delivered or email from far away countries like Australia, Russia, Italy, USA, India and Spain. Spanish participants majority among foreign contestants.
Letters constitute a valuable testimony of the period of time in which they are written, since they picture the history of the writers or their environments'. That's why, despite the boom of new technology, I'm hope that letters will last, added Quincose.