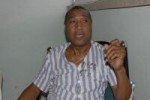 Former Cuban baseball player Lourdes Gourriel is currently hospitalized in Havana's Medical and Surgical Research Center (CIMEQ) where he progresses after suffering from a heart illness.
As confirmed by his wife Olga Lidia Castillo via telephone, his condition is better as he has been submitted to several tests and medical treatments to continue with the assistance provided in his native Sancti Spiritus, a central Cuban province.
First aid was given in the Provincial Hospital Camilo Cienfuegos, explained Dr. Manuel Lage Meneses, second degree specialist in Cardiology.
"After some hours in the hospital, he showed some progress and said to feel better", explained the specialist who added that his disease affects the heart's muscle and is defined as cardiomyopathy, a delicate affection.
"On Friday we determined to move him to CIMEQ's hospital in the Cuban capital, a renowned center in Latin America. We have remained in contact with the specialists from the center. Deeper studies will be carried out there to determine the cause of the illness".
In Sancti Spiritus hospital, Gourriel received Roosters, the local baseball team he managed for 8 seasons. His three sons are currently playing for that team. He has been recipient since his admission there of the love, concern and admiration of the people of Sancti Spiritus and the rest of Cuba.
"I feel so mucho better, explained Gourriel, the pressure has stabilized, the legs inflammation has diminished, I'm in a good mood. Many people has worried for me and that has encouraged me to go on"
Lourdes Gourriel Delgado is the most relevant of all Sancti Spiritus baseball players. He played for 20 seasons with the local team, representing Cuba in 14 occasions. His name was immortalized in the 1998's World Championship in Italy; where he shot a homer that meant the tie for Cuba vs. USA in the game for the gold medal. Cuban Revolution Leader Fidel Castro would name him Parma's Hero after that event.
Dilated cardiomyopathy is the most common of all cardiopathies. It is an affection in which the heart becomes weakened and enlarged and cannot pump blood efficiently. The decreased heart function can affect the lungs, liver, and other body systems.