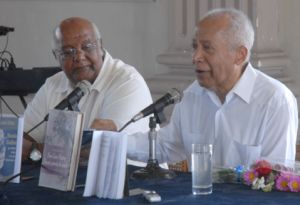 With the lecture El Caribe que nos une (The Caribbean uniting us), Jamaican literary critic and essayist Keith Ellis opened on Wednesday the 21st edition of the International Book Fair in Sancti Spiritus, central Cuba.
By Yainerys Avila
More than a description of the geographic circumstances of the region, the dissertation of the professor of Hispanic-American Studies in the Toronto University, Canada, highlighted the solidarity and cooperation spirit distinguishing the countries from the region despite the great diversity of languages and cultures.
For centuries-said the researcher-the Caribbean separated us in many senses. For instance, in Jamaica's schools we were told to be "lucky" of being colonized by the British, who were supposed to be superior to the Spanish, and all those arguments brought about differences among the peoples of the region.
Fortunately, a new tendency emerged at the same time bringing about ideals of unity, ethical and moral principles and the strengthening of mutual aid, and that is precisely the Caribbean uniting us, said Ellis.
The author of works on the Caribbean identity referred to Cuba being an important pillar in the solidarity sphere as the country offers its expertise in key areas such as medicine, education, culture and sports to the rest of the world.
More than 220 editorial novelties are available for Sancti Spiritus residents until February 26th in several spots located in the city's historic center.