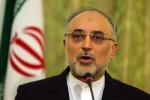 Iran presented an integral plan for resolving the Syrian crisis to the four-member mediator group along with UN and Arab League intercessor Lakhdar Brahimi, Iranian Foreign Minister Akbar Salehi revealed on Monday in this capital.
That group was shaped as an initiative from Egyptian President Mohamed Morsi and is composed of Iran, Turkey and Saudi Arabia.
"We have offered a comprehensive six-point plan to end the Syrian crisis, which calls for a halt to the violence and a gathering for a national dialogue," said Salehi at the opening of a university Muslim teachers' forum about the Islamic Awakening.
The foreign minister reiterated his country's criticism of the so-called selective approach to the Syrian problem by the Western powers and called for a diplomatic solution to the crisis.
In that respect, he referred to the first round of the National Dialogue on Syria, held in this capital in November, asserting that the "main opposition forces believe in negotiations, but while they were making progress with the talks, terrorists were attacking the people and the government."