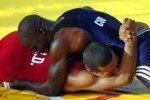 The 43th Cerro Pelado-Granma International Tournament will continue on Monday with fights in the 60- and 74-kilogram divisions in the Greco-Roman style, and 48, 51 and 55 kgs in the women"s category.
In the 60-kg division, three local wrestlers have the greatest chances to win: Hanser Meoque, Ismael Borrero and Maikel Anache, but only one of the first two will fight for the gold, because they have to fight against each other in the qualifying round.
Borrero, however, must defeat Joe Betterman, from the United States, a high-quality opponent in this category.
In the 74-kg division, Pan-American champion Jorgisbel Alvarez would replay the final of Guadalajara-2011 against U.S. Ben Provisor, but the latter must beat Cuban fighters Mailin Consuegra and Alexei Bell first.
In the women's contest, the most attractive fight must be in the minimum weight, where Cuban Aray Sanz, in order to get the gold, will fight against Argentina's Patricia Bermudez, bronze medalist in the Pan-American Games of Guadalajara.
In the 51-kg division, all medals must go to Canada, since only three of its representatives are participating, and in 55-kg division, the main fight must be between Cuban wrestlers Yamilka del Valle and Idirmis Acea.
Taken from Prensa Latina