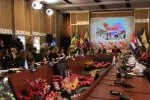 The presidents of the countries of the Bolivarian Alliance for the Americas (ALBA) will discuss Sunday in the 11th Summit the entry of new members, in order to strengthen their integration objectives.
Haiti, which is a nation involved in this mechanism as an observer since 2007, is among the applicats for full membership, an interest which was ratified by its president, Michel Martelly, to access all the benefits that the ALBA offers.
On Saturday, the first day of the Summit, it was confirmed that ALBA is developing a road map to help rebuild Haiti, which includes health, education, energy and food production as priority areas.
The heads of state attending the meeting, which ends on Sunday, will also analyze the possible incorporation of Suriname and St. Lucia.
The agenda provides for the report of the five committees and a discussion of the need for concrete actions to support the newly created Community of Latin American and Caribbean States.
During the opening session the 11th ALBA Summit adopted a declaration in support of Argentina for its claim of sovereignty over the Falkland Islands also known as Malvinas, which includes studying the sanctions that could be applied by Latin America to the UK.
It was also agreed the creation of a joint economic zone (Eco-ALBA) that will have a bank with one percent of international reserves of each member nation and will use a single currency by the Regional Compensation System (SUCRE). (Taken from PL).