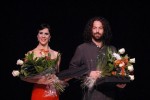 Cuban dancer and choreographer Irene Rodriguez received the Alicia Alonso award at the VIII Iberoamerican Choreography Competition (CIC) for his work "The crime was in Granada," inspired by the Spanish poem by the same name, by Antonio Machado (1875 -1939).
The Israeli dancer and choreographer (based in Spain) Sharon Fridman, author of the piece "How far?," premiered yesterday at Havana's Grand Theater also received the award.
Mentions was given to the works "Anoxia," by the Cuban Osnel Delgado; and "Lúa" by the Spanish Mercedes Suarez.
The CIC-2012 Award, whose jury was chaired by the BNC's prima ballerina Anette Delgado, and composed of leading figures from the international dance world, assessed 42 works from Argentina, Brazil, Chile, Spain, Mexico, Venezuela and Cuba.
Starting in 1998 the General Society of Authors and Editors (SGAE) and the BCN created this biennial prize in order to encourage the creations by Iberoamerican choreographers working in various styles and genres.
Almost at its end, the 23rd International Ballet Festival of Havana reserved the premiere of "Luminous," by Peter Quanz, created for the Canadian National Choreographers Initiative and performed on this occasion by novice BNC dancers.
Much applauded for their performance, the dancers did their best to express the maxim of the deceased Cuban writer Alejo Carpentier when he said "the spirit of dance is inseparable from the human condition."