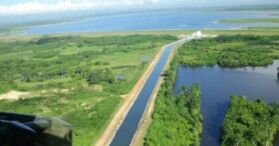 An artificial river nearly as long as Cauto and two times the size of Zaza, is being drawn in the island's belly in such a silent manner, that the magnitude of the work is hardly revealed, not even for those involved in the undertaking. The building works are scheduled to be concluded in 2022.
This highly valuable mega-project, will have 192 miles of canals, will be supplied by 27 reservoirs from three different provinces and, according to the experts in charge of the construction works, it will be able to take water from Meyer (Sancti Spiritus Escambray region), to the vicinity of Camaguey.
The building works are scheduled to be concluded in 2022. The specialists from the National Institute of Water Resources (INRH, in Spanish) informed that many of the systems integrated to the project have been concluded and several are already in use. This is the case of several water reservoir in Sancti Spiritus (Zaza, Higuanojo, Banao II, Dignorah, Lebrije and La Felicidad), as well as Zaza (27.9 miles) and Zaza-Ciego (22.3 miles) Main Canals.
According to Manuel Díaz Riverol, INRH´s investment sub-delegate in Sancti Spiritus, it's impossible to approach all the tasks simultaneously. A plan has been designed from now to the year 2022 that will allow the incorporation of services by section. This will avail the use of the already built infrastructure in the region's agricultural programs.