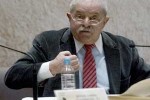 Brazilian former president Luiz Inacio Lula da Silva declared on Wednesday that hunger and poverty can be stopped in the world and stressed that Africa could learn from the food security experience of his country.
During a press conference at the headquarters of the African Union (AU) in Addis Ababa, he emphasized that Brazil took eight years to lift 28 million people out of poverty and 40 million of its poor became part of the middle class.
We can begin to think about curbing hunger and poverty in any country in the world, he assured, and remarked that in this regard the African continent could learn from countries such as Brazil in its fight against hunger, and achievement of food security.
The South American former leader stressed the importance of giving small farmers access to credit and technology to ensure their success and noted that once and for all we have to end subsistence agriculture.
In his tour through Africa since November 16, he highlighted the support of the institute he runs, to the African Union Infrastructure Development Program in Africa.
During his stay here he met with the president of the AU, Nkosazana Dlamini Zuma, and the Director of the United Nations Food and Agriculture Organization, José Graziano da Silva.
Lula is to meet Wednesday with the Prime Minister of Ethiopia, Hailemariam Desalegn, and then will travel to India.
As part of his tour of the region, the Brazilian ex president visited South Africa where he met with President Jacob Zuma, and other sectors of society such as trade unions and youth representatives.
Lula's tour is aimed at establishing details for the preparation of an international congress on food sovereignty that the FAO is planning for March 3 and 4, 2013 in Ethiopia with the support of the AU and which will be sponsored by the institute he manages. This event is targeted to better coordinate programs against hunger in Africa.