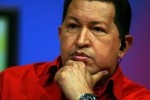 Venezuelan President Hugo Chavez is in a general stable condition, said Communications and Information minister Ernesto Villegas in a communiqué.
The communiqué, whose full text was published by PL news agency reads that the Government of the Bolivarian Republic of Venezuela addresses the nation again meeting its duty to timely inform about the progress of Commander and President Hugo Chavez.
The general health condition of the President is marked by stability, following a respiratory infection diagnosed on Monday, December 17. The medical team immediately treated and controlled the infection, the communiqué explains.
According to the doctors, this kind of infections is one of the most usual after-effects of complicated surgery, such as the procedure that President Chavez was submitted to on December 11.
Finally, the medical equipment informed that President Chavez must keep complete rest over the next days and be administered the prescribed treatment with the highest rigor, in order to keep the stability of the current values of his vital functions, concludes the communiqué read by the minister on the indications of executive vice-president Nicolas Maduro.