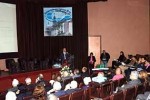 The International Congress Biotechnology 2012 is on its third working day on Wednesday, in Cuba, with a session on Hepatitis B and C. The event's scientific agenda also includes papers on pharmacogenomics, cancer treatment and neurogenerative diseases, among other important issues.
Also on the list is a news conference by Doctor Peter Agre, professor of the University of Duke, in Dirham, North Carolina, and 2003 Nobel Chemistry Award winner for his research on aquaporins (a certain kind of channels in cell membranes).
Agre has been optimistic about the future possibility that scientists from his country and Cuba can "work together." "We have come to Cuba to teach but also to learn, to join us, to work together," the expert said at the opening session of the forum.
With a venue at the Conference Center until March 8, the Biotechnology Congress 2012 is being attended by some 600 experts from 41 countries, said Gerardo Guillen, vice president of the organizing committee.
Taken from Prensa Latina