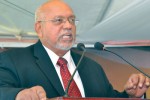 Guyana's President Donald Rabindranauth Ramotar arrived in Cuba on an official visit to meet with his peer, Raul Castro.
According to his agenda, the visit is aimed at strengthening ties between the two countries, which established diplomatic relations on December 8, 1972.
Ramotar arrived in this capital early Wednesday with an agenda that also includes exchanges with Guyanese students, and a tribute to Cuban National Hero Jose Marti at Havana's Revolution Square.
Cuba and Guyana maintain cooperative ties in sectors such as health, education, culture and sport.
More than 1,200 Cuban collaborators have provided medical services in that northern South American country.
As part of the Operation Miracle program leading up to the creation of the National Ophthalmology Center in Pourt Mourant, more than 1,000 Guyanan patients with eye problems were operated on here.
Guyana currently has four Integral Diagnostic Centers and a National Eye Center, with a medical brigade which includes 175 doctors, nurses, and technicians