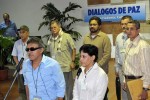 The Revolutionary Armed Forces of Colombia-People's Army (FARC-EP) today called for an urgent investigation by humanitarian groups into the massacres and disappearances in that country.
Marking the 84th anniversary of the unpunished Banana Massacre, in which about 3000 people died on December 6, 1928, Jesus Santrich launched an "S.O.S." denunciation on the guerrilla group's behalf.
Santrich recalled that since that massacre no clear or thorough investigation has been made of the regime authorities responsible for the killings in the 40's, the genocide of the Patriotic Union, and the filling of the common graves in the territory.
He also added to the list those who carried out and continue staging the so-called false positives, killings, and arrests against mass leaders.
Before traveling to Havana on Tuesday, venue of peace talks between the Colombian government and the guerrilla force, former vice president Humberto de la Calle urged insurgent forces to respond to the victims and talk about that issue.