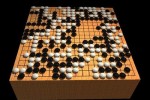 Carlos Perez Palacio won the Go National Championship by defeating Santiago Alvarez Marin during the final day of the tournament held in Sancti Spiritus, central Cuba. Second and third positioned participants were local residents.Perez Palacio accumulated 4 poitns and qualified to the World Championship to take place the upcoming May in China, home to the sport for more than 2500 years.
A Japanese delegation that attended the National Go Championship held last weekend in Sancti Spiritus, had the opportunity to tour the territory.
The foreign visitors arrived in this village in order to foster the practice of this board game that originated more than 2,000 years ago and already has many followers in the island.
Cuba counts on 450 participants of the so-called mind's martial art, while 25 of those belong to superior categories.
OtakuSS is the name of the fan club that was officially created in Sancti Spiritus last year. It has 20 members at the moment and has a weekly program to share with locals.