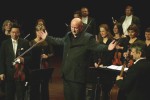 A selection of musicians from the Rouen Opera Orchestra, France, will give a concert in Cuba on March 2 and 3, as part of cultural exchange between the European country and Cuba.The first concert will be held in the Cuban province of Matanzas, and the second is scheduled at the Basilica of Saint Francis of Assisi in Havana, told reporters the Cuban clarinetist, who lives in France, Lester Chio.
Chio, project developer, said he and the musicians invited French Florent Audibert (cello) and Heline Bordeaux (violin) will offer a recital that includes a varied repertoire.
Giving details of the program, Chio said that it includes works by Antonin Dvorak, Johannes Brahms, Wolfgang A. Mozart and Sergei Prokofiev.
Chio said that with the support of the Cuban Institute of Music and the National Center of Concert Music, all the members of the Orchestra of the Opéra de Rouen will visit Cuba in 2013.
This time we want to offer a series of concerts linked to educational meetings, Chio added.  (Taken from PL)