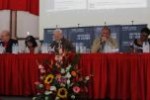 The compilation of the dialogue between the leader of the Cuban revolution, Fidel Castro, and 69 intellectuals from 21 countries is launched on Wednesday in Havana, Caracas and other capitals of the world.
"Our Duty is to Fight" is the result of the revised and enlarged transcription in Spanish and English languages of the dialogue between Fidel Castro and a group of intellectuals from Africa, Europe and the Americas, held on February 10.
The book, a call to fight to save humanity from wars, climate change and other dangers in wait, will be simultaneously launched in Havana and Caracas, Venezuela, by prestigious intellectuals.
Casa de las Americas President Roberto Fernandez Retamar, World Economy Research Center Director Osvaldo Martinez and Environmental Agency President Gisela Alonso will speak at the book launch in Cuba.
Writer Luis Britto Garcia, ALBA prize winner in Literature and the Arts, the State Minister for the Urban Reconstruction of Caracas, Farruco Sexto, and historian Carmen Bohorquez will launch the book in Venezuela.
Also present will be Miguel Barnet, president of the National Union of Cuban Writers and Artists (UNEAC), Zuleica Romay, president of the Cuban Book Institute, and Cuban Deputy Culture Minister Fernando Rojas.
The book will be also launched in Quito, Buenos Aires, Luanda, Santo Domingo, La Paz, Mexico City, Bridgetown, San Juan, Kingston, Washington, Madrid and Berlin.
The presentation of the book in Havana will be broadcast live on the Internet, on the Cubadebate channel in Justin.TV.
Taken from Prensa Latina
[nggallery id=5]