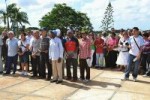 The leader of the Cuban Revolution, Fidel Castro, sent a message to the staff of the Indio Hatuey Experimental Station of Pasture and Foder, congratulating them on the 50th anniversary of the center and recognizing their work.The workers at Indio Hatuey, the first center for agricultural and stock breeding research created in Cuba, were happy and proud to receive a present from Fidel consisting of the two volumes of the book Guerrilla of Time by Katiuska Blanco, in which Fidel wrote a dedication recognizing the scientific institution's work of half-a-century.
The message written by Fidel reads, "To the Indio Hatuey Experimental Station and your excellent researchers on the 50th anniversary of its creation. I also congratulate the rest of its brilliant staff."
The Station's director, Girardo Martin Martin, who received the present, thanked the Commander in Chief for this gesture in honor of the 50th anniversary of the creation of the Station.
A meeting marking the event was held Friday morning at the Station with the participation of workers and founders, some of whom still work at the center. Some researchers and other members of the staff received diplomas for their continued work at the station for 50, 40, 30 and 25 years.
Founded by Fidel Castro, the Indio Hatuey Station has adopted the agro-energetic paradigm in its research and development. Its innovation strategies are based on creating and promoting environmentally-friendly food and energy production systems. (Taken from RHC)