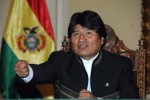 Bolivian President Evo Morales said the progress that experiences the economy of Bolivia after the nationalization of hydrocarbons is visible and palpable and allows the government to destine resources for several needs.
Morales referred to the topic in the delivery that the government of the western department of Oruro gave to the Departmental Command of the Police of 45 motorcycles for a value of 2.187 million bolivianos (315,584 dollars), in addition to 15 vans for the work of the officials of the regional government.
Now the mayors and governors can gear the police because they have more economic resources thanks to the progress in the national economy after the struggle of the people to recover the hydrocarbons, he pointed out.
Morales informed that according to the most recent report the petroleum revenue in this management comes to 4.22 billion dollars, much over what was received in 2005 when it was coming to only 300 million.
According to the Head of State, this progress is demonstrated also in the decrease of the children and families that are going to ask for gifts in the Christmas campaigns.
As an example Morales mentioned the one organized by Radio Fides, that this year convoked a minor number of persons compared to previous years, hence every child was benefited even with two gifts.
On his part, the Governor of Oruro, Santos Tito, said that at the beginning of this process the budget was of 114 million bolivianos (16.45 million dollars) for public investment in the region.
Months later, he added, this budget increased and came up to 191 million bolivianos (27. 56 million dollars), of which 81.43 percent were already used, up to date.
The commander of the national police, Colonel Alberto Aracena, was grateful for the work done by the departmental authorities and added that during this management, the institution in Oruro was benefited with 503 vehicles.
Aracena also said that the received vehicles will strengthen the work of the police patrols in the city and that of the rural areas.