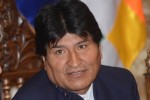 Bolivian President Evo Morales declined to participate in activities for the 202nd anniversary of the epic war of liberation in Potosí, after learning about maneuvers to tarnish the celebration.
The president, who promised to remain in that Department until the festivities ended, changed his mind after knowing of actions by some individuals to overshadow the celebrations.
Roberto Aguilar, Minister of Education, said the absence of the Head of State, is understandable though he was eager to attend the official ceremony to accompany the local authorities.
"The President was very eager to participate in the official meetings, in the civic parade, but unfortunately there have been some people who think on promoting a provocative situation," stated Aguilar.
Local media warn that some people claim Morales's attention to the demands of his department, despites the opening, by the head of state, of important works of social impact and the development of that region.
The government convened a meeting for next week in La Paz with the leaders of that group to analyze the points of demand.