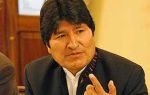 Bolivian President Evo Morales announced Friday that he will ask his counterpart in Colombia, Juan Manuel Santos, to invite Cuba to the 6th Summit of Heads of State of America to be held in that country from April 14 to 15.
During a press conference at the Government Palace, Morales said that on March 15 he will hold talks with his Colombian counterpart, when he will express his desire that Colombia, as host, invite Cuba to that meeting.
At a gathering of the member countries of the Bolivarian Alliance for the Peoples of Our Americas (ALBA), held recently in Venezuela, also attended by Morales, all agreed to ask Colombia to invite Cuba to the so-called Summit of the Americas in that country.
The member countries of ALBA will also request to be included on the agenda of that meeting in Cartagena the U.S. blockade against Cuba that has lasted more than half a century and Argentina's claim over the Falkland Islands.
Taken from Prensa Latina