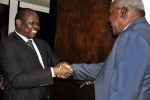 Member of the Politburo of the Communist Party and Cuban Vice President Esteban Lazo received a delegation of the Popular Movement for the Liberation of Sudan Party, led by its Secretary General, Pagan Amun.
According to an official note, the African group is in the Caribbean nation in compliance with an invitation of the Cuban Communist Party.
During the exchange, which took place in a fraternal atmosphere, given the close and historic relationship between the two organizations, issues of bilateral interest and the international situation were discussed.
The south-Sudanese party carried out an intense working program and met with Cuban institutions and social organizations.
They also passed on a message of greetings and thanks to the Cuban party, government and people for the solidarity offered for years to Africa.
They reiterated their support to Cuba's struggle against the economic, commercial and financial blockade imposed by the U.S.A since the 60's.
They also reaffirmed their support for the campaign for the return of the Cuban five who have been held in U.S. territory for 14 years.