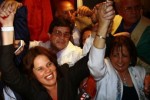 Chilean election authorities revoqued the victory of socialist Maya Fernandez Allende, granddaughter of fallen President Salvador Allende, who was declared mayor in recent municipal elections.
The regional court pulled out such proclamation and granted the victory to Pedro Sabat, current councillor of that municipality since 1996.
According to new recount, Sabat got 34.247 votes, while Fernandez got 34.217.
Fernandez was initially declared the winner in the elections of October 28, with 92 votes ahead, and then with only 18.
But the leadership of Sabat's party, National Renewal requested a recount, performed last Friday by the Second Regional Electoral Court.
The new poll was conducted before the lawyers of the parties, lots of journalists and the eyes of millions of people, as the vote count was broadcast live on several TV channels.