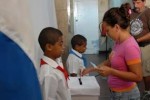 Cuba Parliament members are to be elected next February 2013.
Cubans will elect on February 2013 the 612 deputies to Parliament and the nearly 1,270 delegates to the People's Power provincial assemblies.
Juan Mendoza, associate Dean of the Law School of the University of Havana, explained that candidacies to deputies and provincial delegates are comprised of 50 percent of the city councilors that are elected during the partial elections.
From October to November, 14,537 representatives to the 168 municipal assemblies of the People's Power were elected, a process in which more than 94 percent of people with the right to vote participated.
According to the jurist, city councilors are indeed in charge of deciding who are included in the ballots to run for provincial delegates and deputies.
When the process ends and the elected are defined, the delegates and deputies are responsible for representing their supporters in the different levels, stated Mendoza.
Mendoza summed up that Cuba's election model is peculiar and holds an interrelation with the experience and a tradition that have been consolidating in the country.