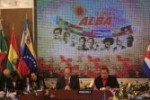 The designation of Ecuador to lead the Economic Secretariat of the Bolivarian Alliance for the Peoples of our America (ALBA) is seen as a recognition of the work of the country in that area.
The undersecretary of Foreign Trade Relations of the Foreign Ministry of Ecuador, Jorge Acosta, said that this appointment is a recognition the economic performance of the government of President Rafael Correa and the leadership of the country.
The Secretariat, created at the Caracas Summit this weekend, is formed by the Ministries of Economy and Finance of the ALBA member countries and its mission is to establish common policies that strengthen regional integration.
This working group is in charge of preparing a document for establishing an ALBA economic zone that boosts production, trade integration, and linked production, based on economic complementarity.
Acosta said that the Secretariat includes working sub groups for production, trade, and the development of infrastructure.
The first task is to make a list of products with which they can strengthen trade among the ALBA member nations.
El Ciudadano daily and Andes news agency released on Sunday long articles about the participation of Correa in the recent ALBA Summit and his call to the presidents of this Alliance and the South American Union of Nations (Unasur) to boost trade for the development of their peoples. (Taken from PL).