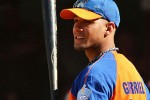 The new three-game series starting Wednesday between Sancti Spiritus and Granma involves an attractive duel between internationals Yulieski Gourriel and Alfredo Despaigne, two of the best Cuban players at present.
By Elsa Ramos
The interesting confrontation between two of the most offensive players in Cuban baseball nowadays is to take place when their teams face from Wednesday to Saturday in Roosters' headquarters. The fight lies on the homerun and runs brought in areas.
Granma's Despaigne takes the lead with 16 homers for Yulieski's 13. He also tops Cuban baseball in the runs brought in with 47 while Gourriel is placed third at a national scale with 43.
The eastern player has also being quite opportune as he has brought over home plate the tie or the victory 14 times, to lead also this important department, while his opponent has made it 11 times and is placed 4th in the tournament. Despaigne's slugging is also superior (704) for Yulieski's 588.
However, this individual confrontation can only be a plus. Both teams are called to win if they are to be finally placed among the qualified four in their respective zones. With identical record of 21-21 Sancti Spiritus is placed 5th in the West standings, five and a half games away from Industriales Lions, while Granma is positioned 5th in the East, tied with Holguin and seven and a half games away from leader Villa Clara.