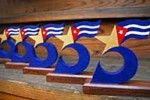 Renowned US actor Danny Glover, an activist in favor of the release  from prison of five Cuban antiterrorists arbitrarily condemned in the United States since  1998, denounced the media silence around the case of these men, and called for justice.  
The International Committee for the Freedom of The Five, placed on the Internet a video on  Glover's press conference with a group of journalists of Youtube, during which he urged them  to spread the illegalities committed against The Five, the National Television Newscast  reported on Tuesday.
Glover announced that he would reveal information on the case, and expressed his
satisfaction for finding so many professionals of Youtube gathered together, among them Helen  Thomas, the doyenne correspondent of the While House during 12 administrations, a privilege  that ended in 2010 under the term of office of President Barack Obama, due to a comment on the  Israeli attacks against the Palestinian people, for which she was forced to retire.
Glover  pointed out that the Cuban patriots were monitoring the activities of anti-Cuban groups in  Miami, which planned and executed violent actions in Havana, like the terrorist attacks  against hotel facilities in the 1990's, in an attempt to interrupt tourism to the island and
damage its economy.
Backed by the screening of filmed images of the attacks against these centers, he added  that it was notorious international criminal Luis Posada Carriles the one responsible for  these actions.
Thanks to the work of these Cuban fighters, who discovered the terrorist plans, the
island's authorities gave that information to the Federal Bureau of Investigations (FBI), which intercepted large quantities of illegal explosives in Miami, specified Glover. Then, pictures of Fernando Gonzalez, Ramon Labañino, Antonio Guerrero, Rene Gonzalez and Gerardo Hernandez were shown "the latter with the hardest sentence, whom the artist has visited on several occasions in the maximum security prison of Victorville, California.
The US activist said that during the trial, in 2001, an intimidated jury (by the propaganda of journalists paid by Washington) condemned them, and a judge "always on favor of the District Attorney-, gave them harsh sentences.
He said that he expected that all the Youtube journalists present at the meeting could find more information and spread the news about the injustice committed against The Five, and ask President Obama to set them free, which would be a real humanitarian gesture.