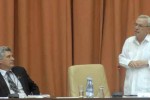 The 8th Congress University 2012 closes in Cuba on Friday, after five days of debates focused on the social responsibility of universities and the topics to be discussed in the 9th Congress University 2014.About 3,500 delegates from 74 countries, included ministers and representatives from international organizations, attended the sessions at Havana's Conference Center.
The deputy general director of Education of the United Nations Educational, Scientific and Cultural Organization (UNESCO), Qian Tang, from China, on Thursday called on participants to work together for sustainable development.
"We are all the UNESCO, stated Qian during a lecture at the congress, in which nearly 2,400 papers were discussed.
We have the challenge to evaluate the responsibility of university graduates with societies to contribute to the development of our countries, the UNESCO official noted.
During a roundtable discussion on the role of universities in sustainable development, the Angolan secretary of state for education, Adao do Nascimento, called on universities to get involved in national issues.
Cuban Higher Education Minister Miguel Diaz-Canel stated that sustainable development is a way to interact with the environment from an approach to integration.
We need to defend the universalization of knowledge, inclusion, broad access and lifelong education, stated Diaz-Canel after speaking out against the mercantilism of education.
Taken from Prensa Latina