Salvador Valdes Mesa in Sancti Spiritus: "U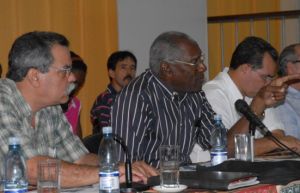 nions need to persuade, challenge, guide, convince and be felt in order to be more credible, otherwise they lose their prominence "
Unions need to persuade, challenge, guide, convince and be felt in order to be more credible, otherwise they lose their prominence, "said Politburo member and Secretary General of the Cuban Workers Federation (CTC), Salvador Valdes Mesa, in the General Assembly of Sancti Spiritus union, which took place on Friday.
The meeting became the necessary stage to discuss core issues such as the role of the union and its mobilizing capacity as to increase the number of members, among other issues of interest.
In this sense, Valdes Mesa called to maintain an active participation in the activities carried out by the enterprises while expressing the importance of increasing the demand towards the authorities so that workers have the means and the necessary protective equipments.
He further noted the need to increase the order and control in each group of workers to prevent crime, corruption and social indiscipline which are harmful to the economy.
At the meeting, chaired by Jose Ramon Monteagudo Ruiz, first secretary of the Party in Sancti Spiritus, the new Provincial Committee of the CTC was approved while Domingo Gutierrez Gutierrez was confirmed  as secretary general of the organization in the Cuban central province.