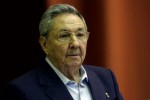 Cuban President Raul Castro travelled to Venezuela on Thursday to attend the celebration of the civic-military rebellion carried out by current Venezuelan President Hugo Chavez on February 4, 1992, 20 years ago.
As part of his stay in that South American country, the Cuban head of State will take part in the 11th Summit of the Bolivarian Alliance for the Peoples of our America (ALBA).
Raul Castro is accompanied by Vice President Ricardo Cabrisas, Foreign Affairs Minister Bruno Rodriguez, and Foreign Trade and Foreign Investment Minister Rodrigo Malmierca.
Taken from AIN