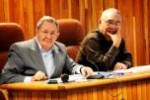 Cuban President Raul Castro called to continue the struggle against impunity and demanded the correct implementation of decisions and systematic control to achieve success.
During a meeting of the Council of Ministers, the Cuban statesman urged to learn from the errors committed, saying that no problem could remain unpunished.
According to Granma newspaper, Raul Castro repeated the importance of establish order in the country regarding urban matters, so that the Institute of Physical Planning and the relevant authorities should focus on really important problems.
We have said it several times, the solution is not to forbid to build, but indicate where and how to do it, the president said.
Housing needs could not be a reason to commit illegalities, but when people commit them, the General Attorney's Office and the Interior Ministry have faculties to face them and to take action on offenders to eliminate any margin of impunity.
Raul Castro considered as an important step to achieve success in the correct implementation of decisions and its systematic control, and urged to continue the course of this process with patience and depth to get better results.
The president noted the need to solve problems of order, discipline and exigency to solve deficiencies.  (Taken from PL)