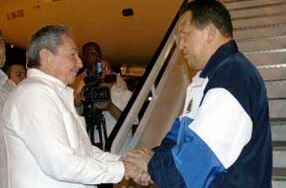 Cuban President Raul Castro received on Monday his Venezuelan peer Hugo Chavez, who arrived in Cuba to follow up his medical treatment. The leader was also received by Cuba's Foreign Minister Bruno Rodriguez.
Chavez will undergo a new surgery after malignant cells were detected in the same area he had received cancer treatment.
The president, via national radio and television network, informed on Saturday that he would have to undergo a surgery after malignant cell were discovered in the same area a carcinogenic tumor was treated.
For this reason, Chavez requested a permission to the National Assembly to leave the country on Sunday.
Chavez appointed Vicepresident Nicolas Maduro as acting president while he is absent.