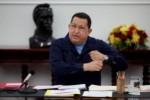 The Cuban National Assembly of People's Power (Parliament) agreed today to send a message of solidarity to the Venezuelan president, Hugo Chavez, who is recovering from surgery.
"Our first agreement will be to send a message to Hugo Chavez, to Venezuela and the World" wishing for a speedy recovery of the President, highlight text that was unanimously adopted at the Tenth Regular Session of the Cuban Parliament's Seventh Legislature.
MPs reiterate that we love Hugo Chavez and trust their ability to resist and overcome, said the message of the Cuban deputies.
'We reaffirm our solidarity and unconditional support to Venezuela under any circumstances in this new battle', highlights the text.
The Venezuelan president underwent a new surgical operation in Cuba due to the occurrence of malignant cells in the area of  the previous surgeries.
Cuban Parliament ends today its 7th Legislature with the analysis of the economic plan and budget for 2013 as well as their behavior this year.