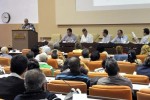 The 12 permanent commissions of the Cuban Parliament began sessions in this capital today, to analyze issues related to economic updating process in the country.
About 600 legislators will discuss today and tomorrow the implementation of the State budget in 2012 and the proposal for 2013, in addition to the behavior of the Gross Domestic Product (GDP) this year and predictions for next year.
According to information recently discussed in the Council of Ministers, the GDP growth in 2012 is estimated at 3.1 percent, below 3.4 percent expected, mainly due to breaches in the construction sector.
This body also stated that 2013 expects a GDP growth of 3.7 percent.
After being this the last session of the Seventh Legislature, legislators will evaluate the work done during the five years of their mandate, with particular emphasis on the attention to criteria and concerns of citizens.
The committees will work prior to reports by ministries and institutions on Wednesday, December 12, and the plenary session, scheduled for Thursday, December 13, which will approve the budget and the National Economic Plan for 2013.
The parliamentary agenda also includes issues such as food production, the progress of the industry, the use of renewable energy, the fight against crime and corruption, the marketing of building materials and road safety.