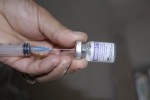 The Cuba-made medication Heberprot-P, used in the treatment of diabetic foot ulcers, has entered the second phase of clinical trials in Europe.
Manuel Raices, scientific secretary of the Havana 2012 Heberprot-P Congress scheduled for December, told ACN the drug has been registered in 14 countries, and expectations are to reach other 22.
At present, it is being tested in 17 health institutions of Spain and a phase 3 multinational and multicentrical trial is expected to be led in Europe, Raices announced.
More than 50,000 patients from over a dozen nations have benefitted from the drug, developed by scientists at the Genetic and Biotechnology Engineering Center, Havana jointly with the Institute of Angiology and Vascular Surgery.
Cuba and Venezuela have implemented national programs that are closely followed by many other countries, according to Raices, who is attending the Havana 2012 Biotechnology Congress wrapping up Thursday.
Raices said Cuba is leading making strong efforts to make Heberprot-P available in every health center of the island; it is currently supplied to more than 200 units covering all provinces and it has been used in more than 8,000 patients.
Heberprot-P, applied through intralesional injection into the diabetic foot ulcers, stimulates scar formation for chronic ulcers of all types on the lower extremities of diabetic patients. It avoids complications such as gangrene and infections, which often lead to amputation. (Taken from ACN)